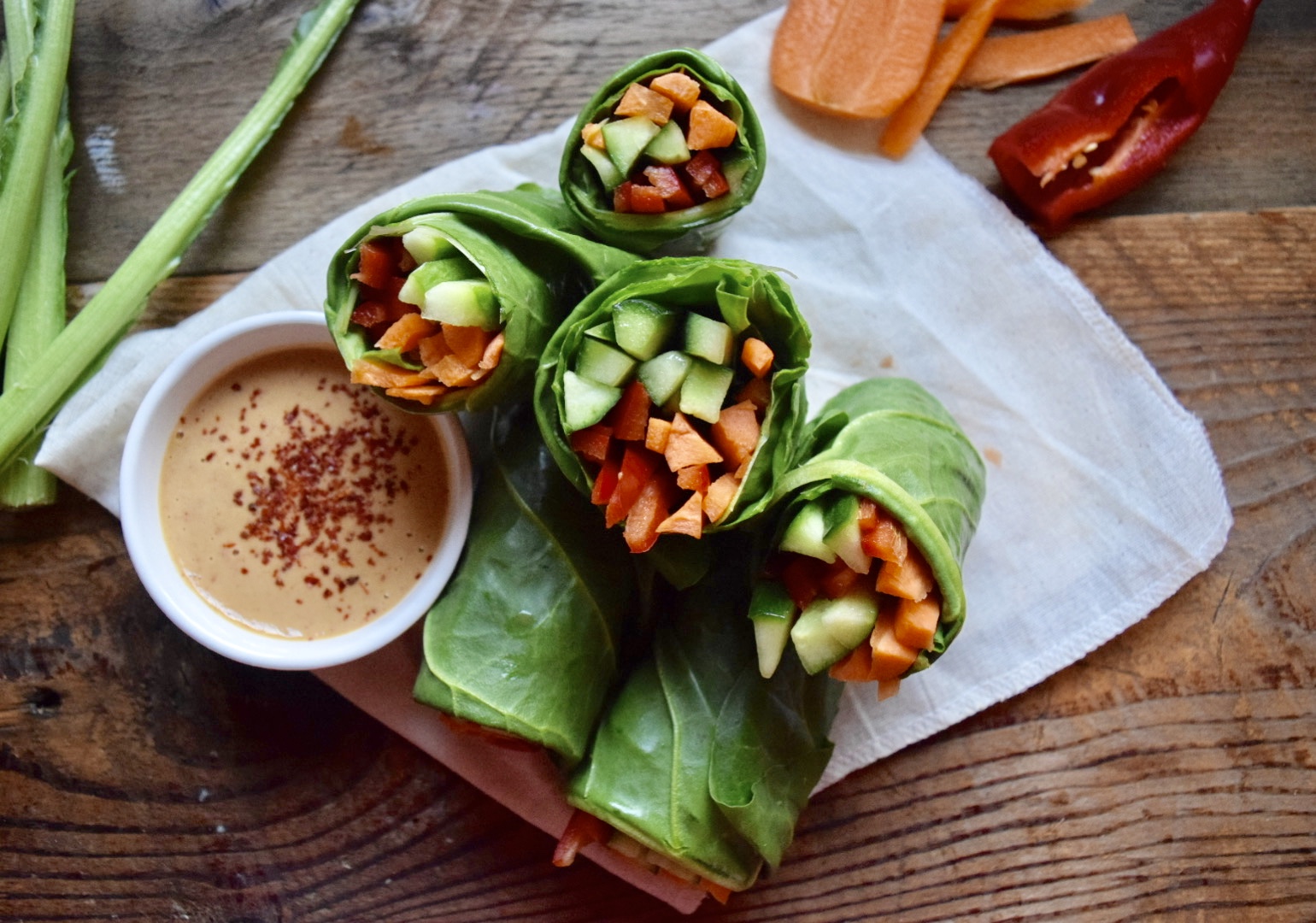 Spring is almost here, and it feels like the time for fresh n' springy recipes. These Swiss chard wraps served with spicy Thai peanut sauce are oh-so-delicious. They are bursting with color and nutrients and so simple to make. Include your own your favorite wrap fillings. . . avocado slices, beet sticks, pickles, or meat for a protein-veggie-filled lunch.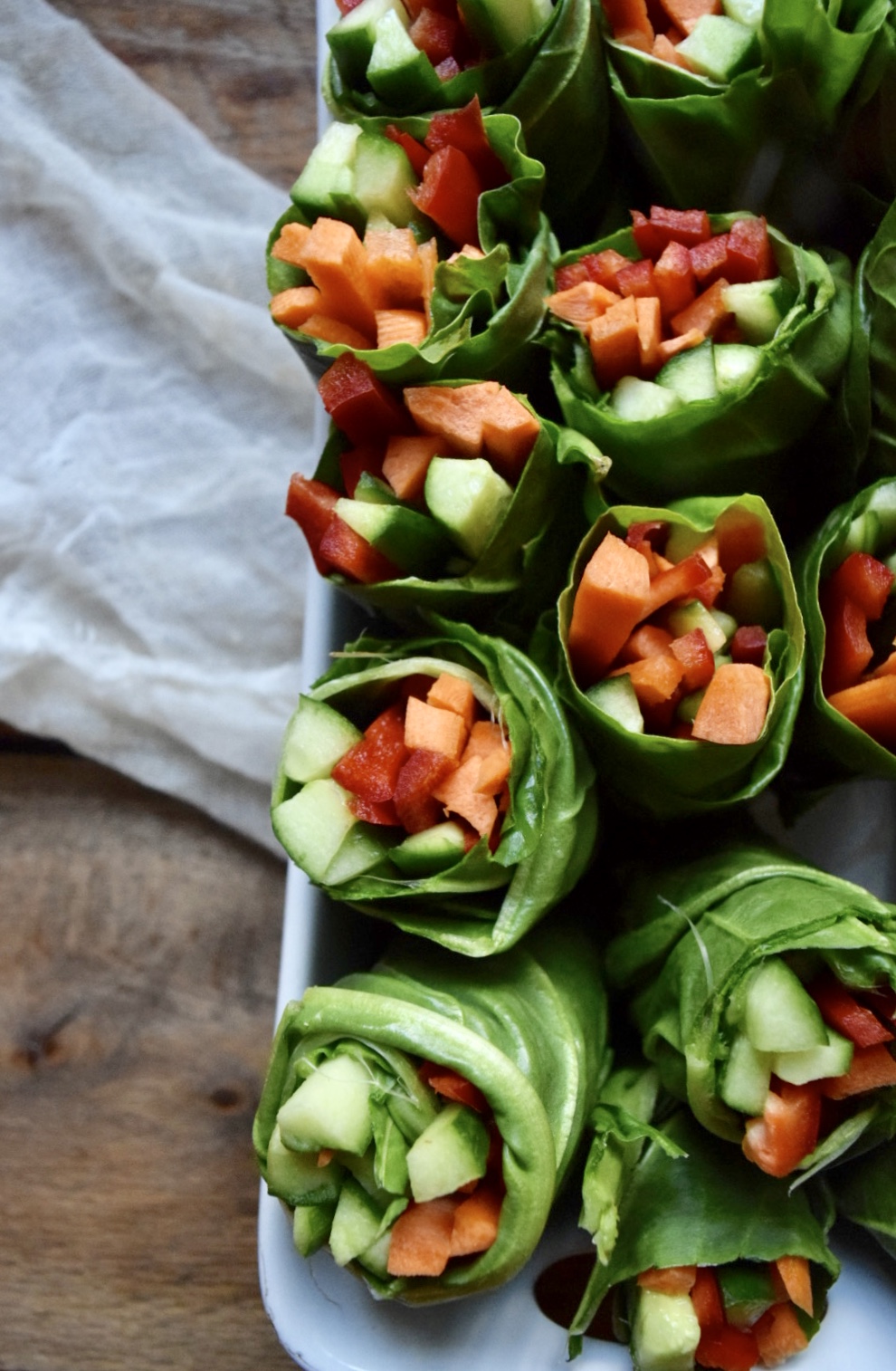 These are a wonderful side to BBQ, picnics, lunches, or just as a snack. The spiciness of the peanut sauce add so much flavor and zing. I served these with garlic lamb burgers (recipe to come) with sourdough rye buns. Enjoy the crunch!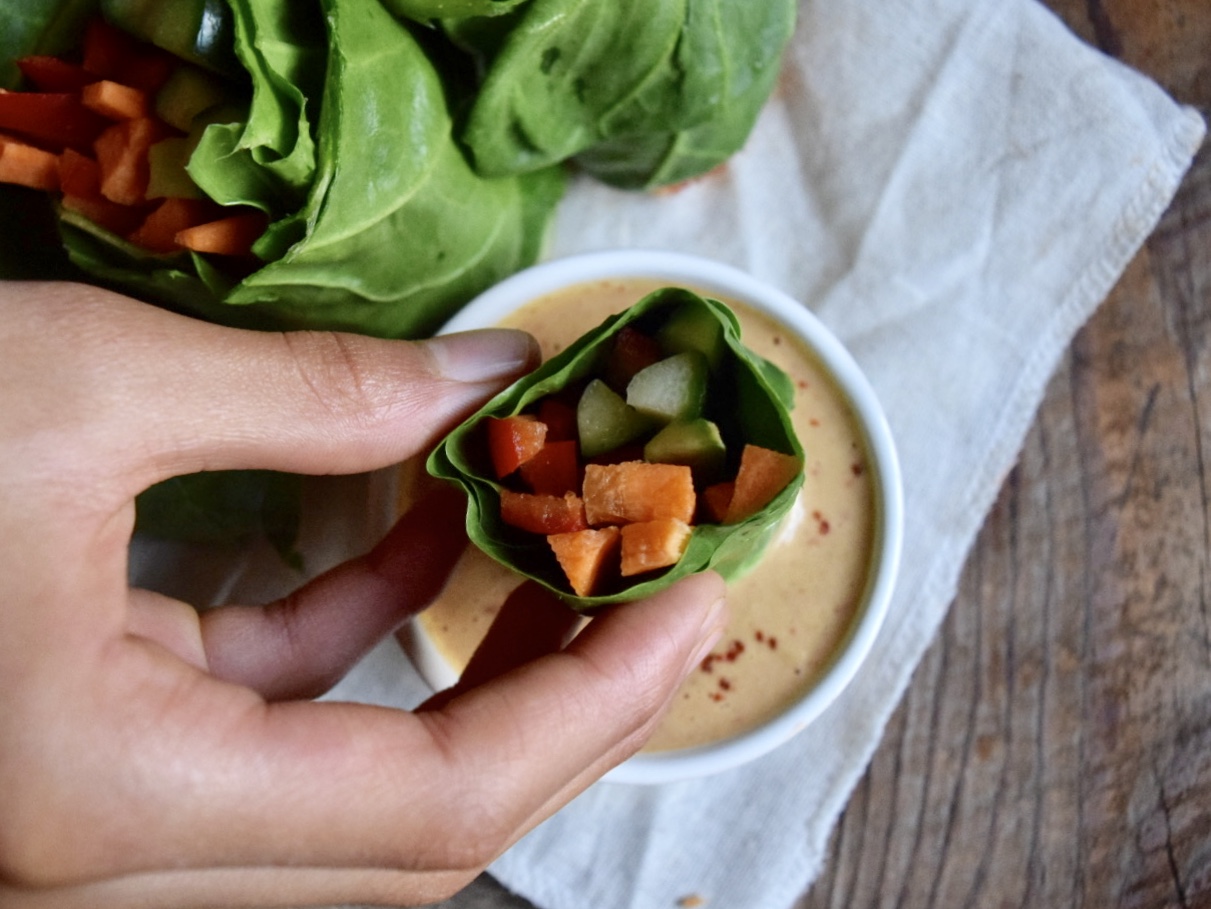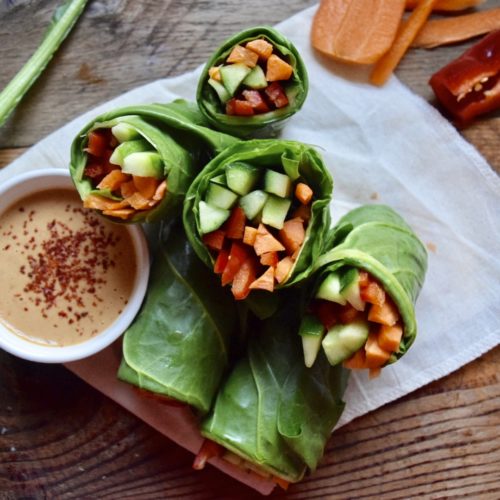 Swiss Chard Veggie Wraps + Spicy Thai Peanut Sauce
Crunchy, springy, fresh + full of flavor! The perfect plant-based recipe to welcome spring.
Ingredients
Swiss Chard Veggie Wraps
1

bunch

swiss chard

(approx. 16 leaves)

2

red peppers, sliced in sticks

3

medium

carrots, cut into sticks

3

cucumbers, seeded and cut into sticks

salt
Spicy Thai Peanut Sauce
1/2

cup

peanut butter, organic

1

cup

Apple Cider Vinegar (or raspberry vinegar)

2

tbsp

fresh ginger, grated

2

tsp

red pepper flakes

2

tsp

black pepper

4

tsp

honey, organic

2

tsp

sea salt

(more to taste if needed)
Instructions
Veggie Wraps
Wash the Swiss chard and pat to dry. Lay the leaves flat and with a sharp knife cut out the thickest part of the stalk (near the bottom). Folding a leaf in half, use it as a measurement for cutting the cucumbers, red peppers, and carrots into sticks (you don't want them to stick to far out on the edges). Place the vegetables on one end of the leaf – be careful not to overstuff or it will be harder to roll.

Tightly roll the wrap and twist the edge around to secure it.
Spicy Thai Peanut Dip
Put all the ingredients into a bowl or glass measuring cup. Using an immersion blender, blend until smooth. If needed add more salt, or if you want it to be spicier, up the red pepper flakes!

Happy Spring!

Special thanks to my sister for her editing skills.