These biscuits are everything you want a biscuit to be.
Soft, fluffy, flaky, with a hint of sour. . . melt in your mouth, finger-licking yumminess. With the added fresh garlic and cheese, these biscuits are out-of-this world delicious. Sourdough bread has been all the rage since Covid-19 started, with so many people being at home all the time. If you hate throwing away your discard like I do, this is a great way to use it. Baking is such a great way to de-stress and enjoy making something special for those you love.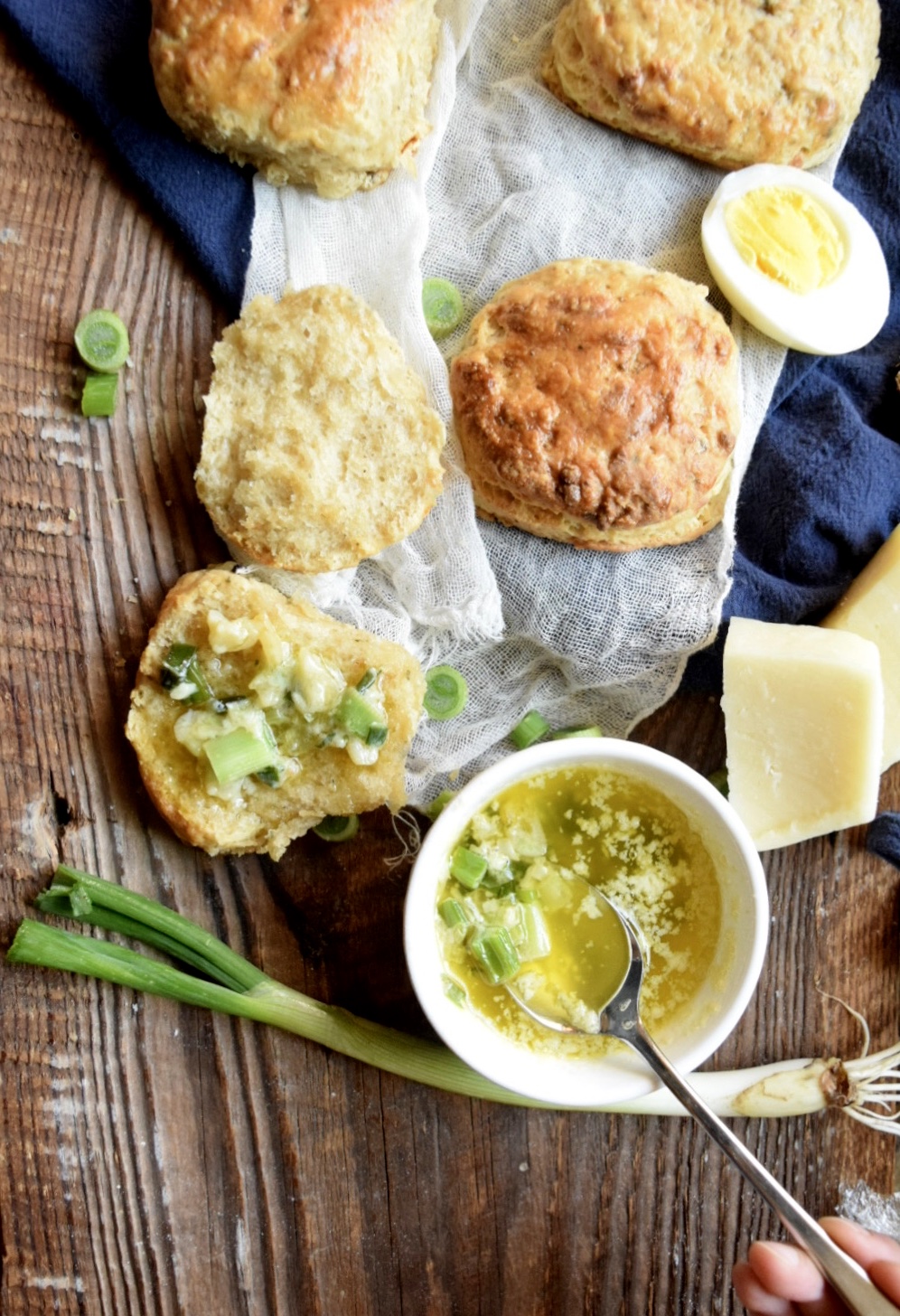 Pour garlic + chive butter over these . . . maybe add an egg, or sausage, or avocado to for some healthy fats and protein. It is always a good idea to eat balanced meals, which means combining your food groups for better digestion and nutrient absorption.
Because we're letting the dough rest all night, your amazing sourdough starter has time to work for hours, breaking down the gluten and fermenting it, adding multiple health benefits.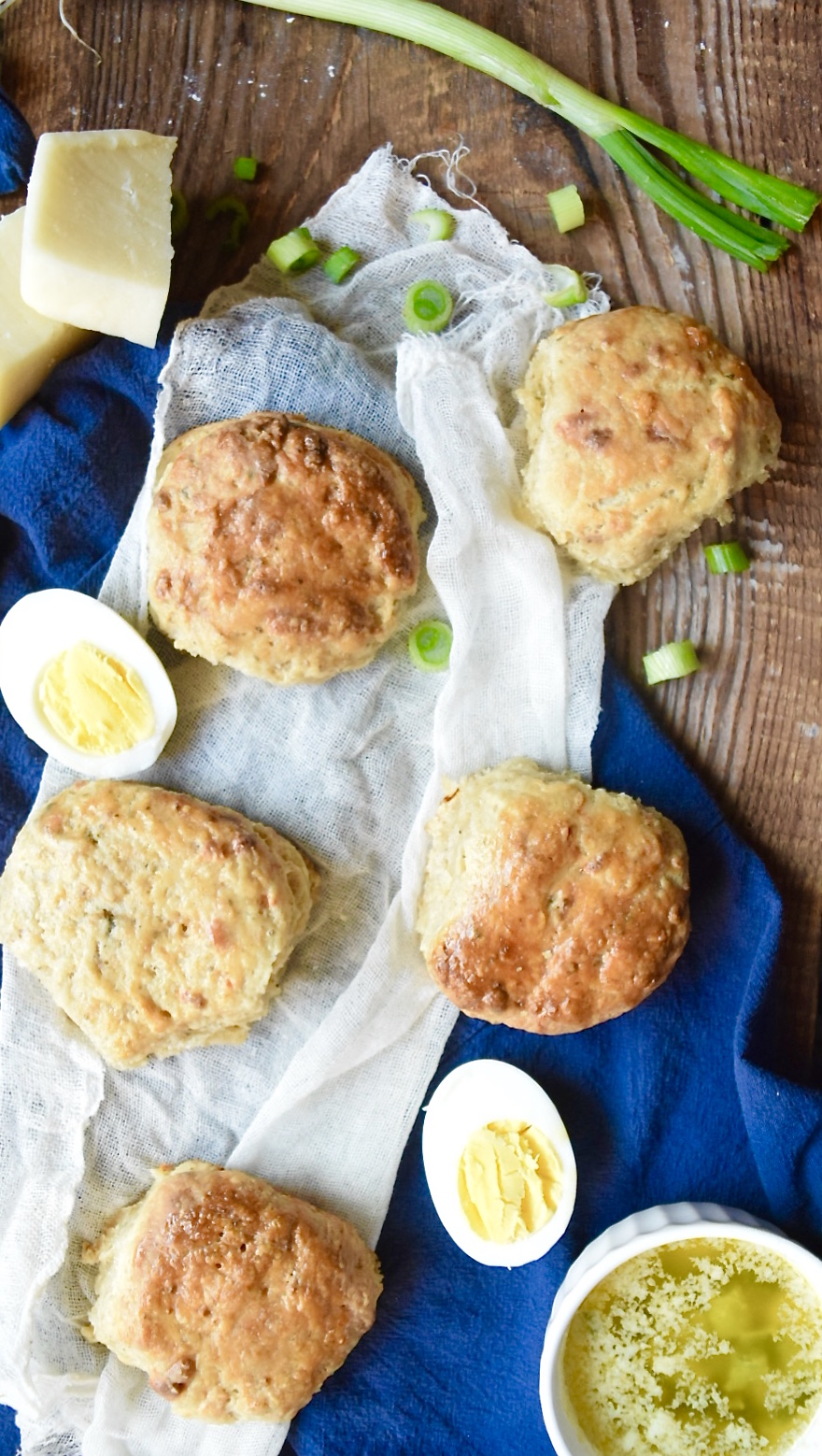 Sourdough is a much healthier way to consume grains, although not necessarily the fastest way to weight loss. If you're trying to lose weight, and still want to enjoy some bread, try eating these in the morning when your metabolism is at its highest performance, and, as I said before, adding protein and healthy fats for balance. Sourdough supports your gut health, makes the grains easier for you to digest, is full of vitamins and minerals, and has great prebiotic health benefits.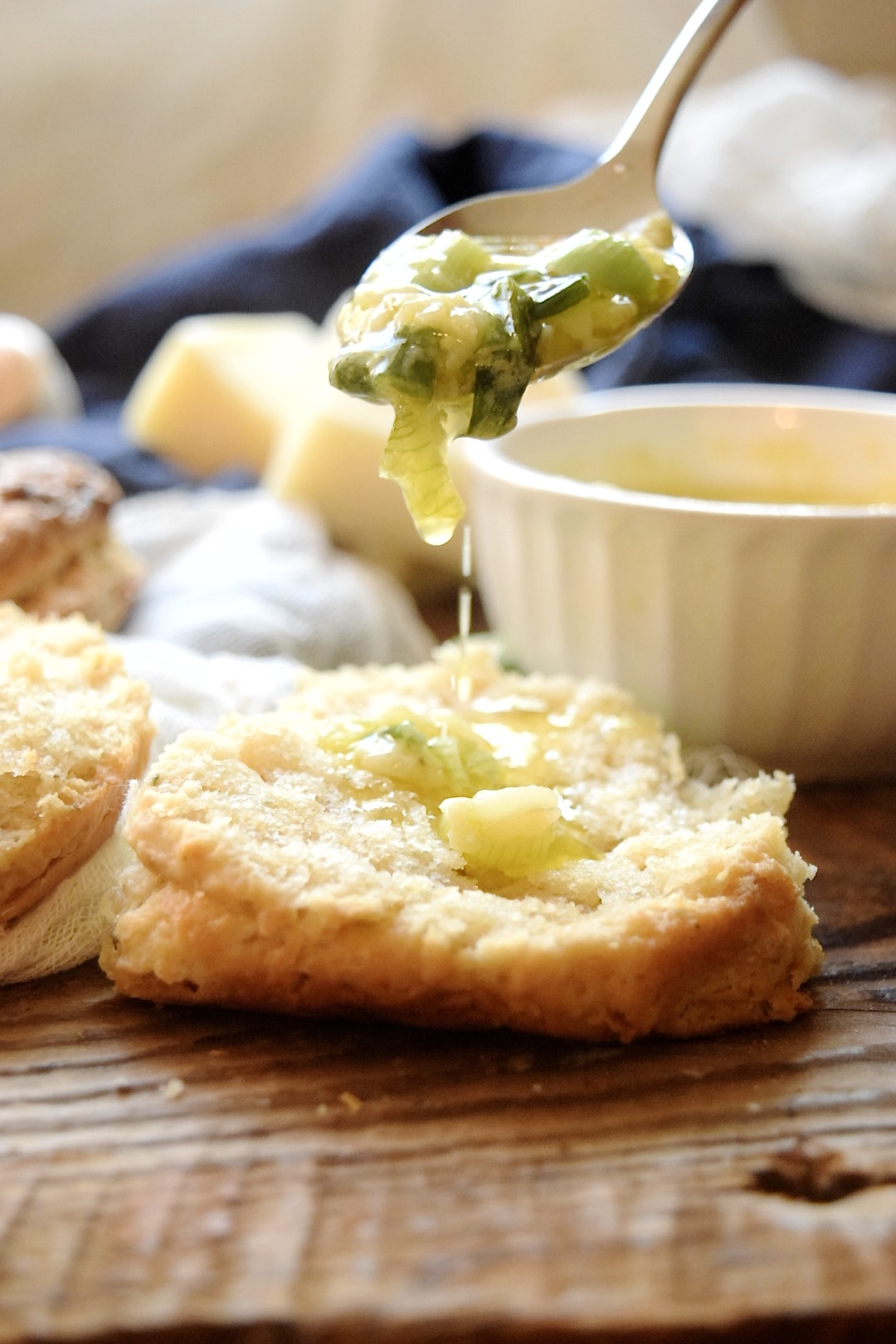 Feel free to try this recipe with other flours like rye or whole wheat, throw in some flaxseed, chia, dried berries, or other spices. I love to make these for picnics with beef sausage and sliced cheese, or if we have company, it is so easy to whip up a double batch the night before, and pop them in the oven in time for breakfast. They are a wonderful side to soups, roasted chickens, or stews. Your family will love these!
Update: I made these with gluten free oat flour and they turned out amazing! My family couldn't tell the difference.
Be sure to comment if you make this recipe! I'd love to hear from you.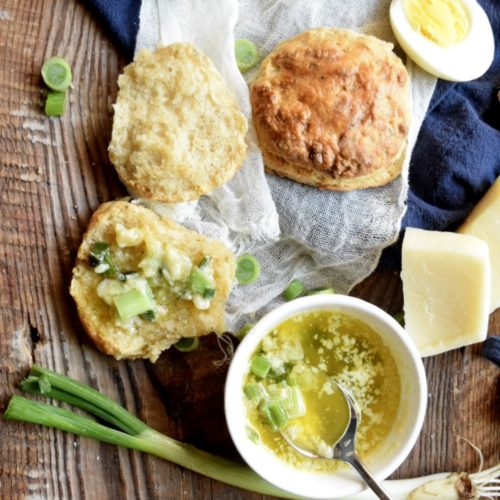 Sourdough Garlic Chives Cheesy Biscuits with Garlic + Chives Butter
Fluffy, flaky, bursting with cheesy, garlic flavors. . .
Ingredients
Biscuits
2 ½

cups

organic white flour, or flour of choice

8

tbsp

grass-fed butter, cut in cubes

1

cup

sourdough starter, active or discard work

1

cup

buttermilk

2

tbsp

garlic powder

1

tsp

black pepper

2

tsp

sea salt

1

cup

shredded cheese

2

tsp

baking powder, (if you are not using active starter)

1

egg

3

tbsp

raw milk
Garlic + Chives Butter
1/2

cup

grass-fed butter, melted

1/4

cup

chopped chives

4

cloves

garlic, diced/crushed

1

tsp

salt

1

tsp

black pepper
Instructions
In a bowl add the flour and the butter. Using a bench scraper or a fork cut the butter into the flour, until it resembles large peas. Add the sourdough starter, buttermilk, spices, and cheese. Mix well with your hands, making sure there is no flower left in the bottom of the bowl. Cover the bowl with plastic wrap or a cloth and allow to ferment overnight (8-10 hours).

In the morning, preheat the oven to 375º F (190º C) and grease a 9×13" casserole with butter.

Lightly flour* the counter and turn out the dough. Pat the dough out into a large rectangle. If you did not use active sourdough starter, you can sprinkle the baking powder over the dough and fold to incorporate. The dough should be about 1 1/2 inches thick. Using a cookie cutter or glass (floured), cut out the biscuits, being careful not to twist or the biscuits may not rise as high. Place the biscuits in the casserole/pan about 1/2 inch apart.

Whisk the egg and the milk together well and then brush the tops of the biscuits. Bake the biscuits for about 20 minutes until golden. Remove and allow to cool for about 10 minutes.

While the biscuits are baking melt 1 tablespoon of the butter in a small pan. Sauté the chives and the garlic. Add the salt and pepper. Add the rest of the butter and stir until melted on low heat.

Serve the biscuits warm with melted butter on top! Delish!
Notes
adapted from Little Spoon Farm Sourdough Biscuit Recipe